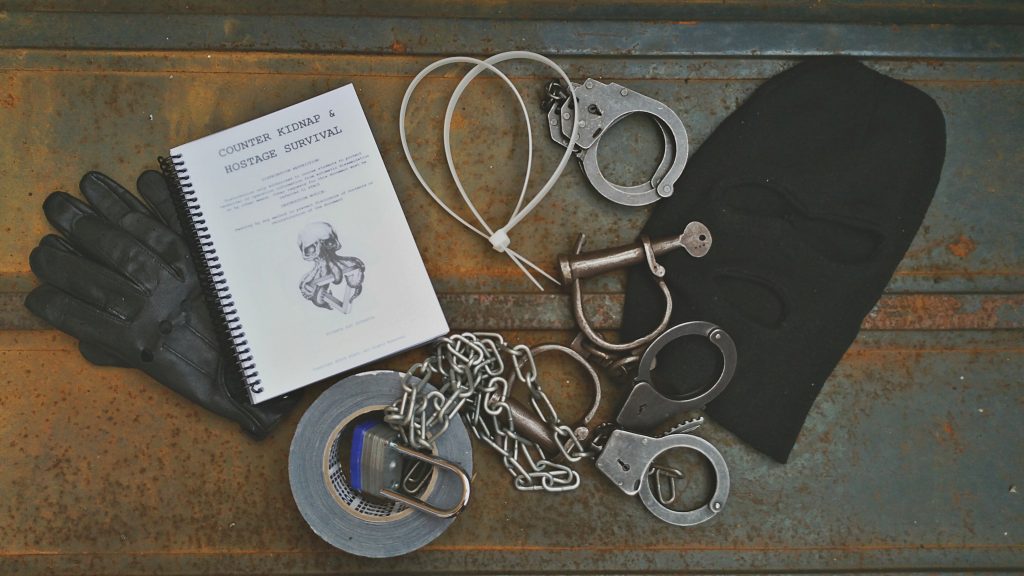 Life is unpredictable, anyone, anytime, anywhere can be prone to abduction, kidnap, restraint and detention during conditions of armed conflict, civil unrest or operations other than war.
The Counter Kidnap & Hostage Survival Handbook is, first and foremost a modest effort to bring clarity to a complex issue.  It contains select content from 1,000's of pages of open source literature to provide a fundamental understanding of counter kidnap and hostage survival strategies that will provide the best possible chance of adapting to the demands of captivity, irrespective of how long this endures.
Contents:
Types of Hostage-Takers
Types of Hostage Situations
Kidnap Operation
Types of Kidnappings
Success Factors for the Kidnap Operation
Stages of the Kidnapping
Surveillance
The Target
The Location
Execution Location: The Paths
Transportation
Timings
Target Selection
The Plan
Securing the Plan
Executing the Operation
The Cut Off Group
The Securing Group
The Storming Group
Deception Plan
The True Attack
Transporting the Hostages
The Hideout and the Art of Dealing with the Prisoners
Negotiations and Agreement
The Issue
The Message
Pressure on the Emotions of the People of the Adversarial Regime
The Demands (The Earnings and Spoils)
The Operation of Receiving and Handing Over
Withdrawing and Disappearing
Counter Kidnap…Soft Target Vs Hard Target
Protection Through Awareness
Visibility
Target Identifiers
VIP
Family Members
Special Precautions For Children
Home Security
Home Target Hardening
Travel
Driving
Walking
Airports
Flying
Hotels
Detecting Surveillance
Common Types of Surveillance
Route Analysis
Attack Recognition
Escape And Evasion
Shock Of Capture!
Escape Or Surrender?
Passive Information Collection
Hostage Survival
Introduction
The behaviour of Captors towards their Hostages
Stages of Adaption to Captivity
Stress Reactions in Captivity
Intimidation and Control
Stabilisation
Situational Awareness
Confrontations
Defence Mechanisms
Denial
Regression & Identification
The 'Stockholm Syndrome'
Coping with Captivity
Living Conditions
Dignity and Self-Respect
Fear
Physical and Mental Fitness
Establishing Rapport
Exploitation of Hostages
Torture
Standard Interrogator Techniques
Enhanced Interrogator Techniques
Resistance to Exploitation
Traffic Light System
Behind the Scenes
Know your Terrorists
The Task of Negotiation
Dealing with the Absolute Terrorists
Negotiating with Kidnappers And Hostage-Takers
Conclusions
Plan for Release or Rescue
Releases & Rescue Attempts
After the Release or Rescue
Debriefing & Recovery Post-Release Stress Reactions
When to seek assistance with Post-Release Stress
This handbook is available on request to Certified Instructors and students that have completed the Progressive Restraint Escape System™ with delivery available anywhere – worldwide.
---
© 2017 4TAC5.COM
<back