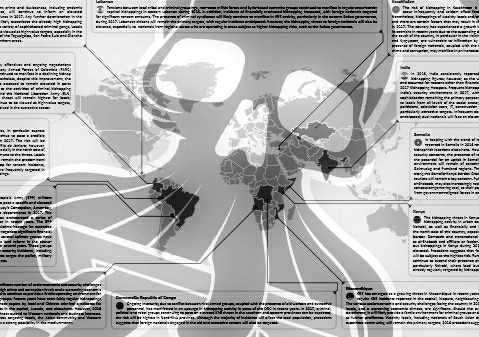 Our courses are available to governmental, diplomatic, law enforcement, intelligence, special operations personnel and select clients that are prone to abduction, kidnap, restraint and detention, during conditions of armed conflict, civil unrest or operations other than war.

Our Mobile Training Team (MTT) are currently based in the United Kingdom and can deliver courses at your location, anywhere worldwide. We can also provide a complete door-to-door service for international students travelling to the United Kingdom (collection from the airport, arrange hotel accommodation, provide transport from/to the hotel to the special training facility).
Who is the training for?
We only train verified military, law enforcement and government agencies.
We don't run open seminars or provide training for the general public or unverified persons.
We recommend our training for anyone that would be considered prone to capture for reasons that may include occupation, activity, location etc.
We also recommend our training for anyone that uses handcuffs and other restraints to understand how they can be defeated and how special measures can be deployed to counter escape from restraints.
We only require one point of contact and do not require the details of any students, units etc.
All services are offered in strict confidence.
---
We are now delivering version 9- 99.013 (November 2018) of the Progressive Restraint Escape System™ and currently offer 3 courses:
Fast Track Counter Custody Course (FT-C3)
This course for students that have an imminent deployment or other time constraints.  Duration:  8+ hours.
International Restraint Escape Training Course (IRETC) This course includes enhanced training exercises and additional material to develop individual students that are high risk 'prone-to-capture'. Duration:  18 to 24+ hours.
International Restraint Escape Training Course 'Train-the-Trainer' (IRETC+T3)
This program has been developed for specialist training schools and instructors. Students that complete this course will be authorised for 2 years to teach the Progressive Restraint Escape System™. Duration:  18 to 24+ hours.
---
BOOKING IS SIMPLE…

Complete the booking form below and we will send you a no obligation quote:
Provide your contact details (official email address for verification)
Select a course
Provide number of students/delegates
Location
Nearest International airport
Provide dates required (dd/mm/yyyy)
We will send a confirmation within 24hrs from services@4tac5.com to confirm that your booking form has been received.
---
© 2019 4TAC5.COM
<back